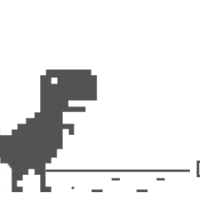 Dino Game
Dino Game is the best game to play without internet connection. This simple game is interesting enough to help you relax after a busy day. Dino Game is a fascinating offline game where players control a cartoon T-Rex in a race to set the highest jump record. Are you ready for a jumping competition in the middle of a desert, over hurdles and break all kinds of records? Be focused and avoid all obstacles by jumping and ducking.
Embark on an Epic Adventure with the Addictive Dinosaur Game
Dino Game was developed in 2014 by members of the Chrome UX team, including Sebastien Gabriel, Alan Bettes, and Edward Jung. According to Sebastien Gabriel, Dino Game was based on the idea of time travel: back to the prehistoric times when Wi-Fi was not ubiquitous. This concept might be strange for the younger generation, but it will recall a time when the older generation could only use the internet in certain locations.
Astounding Figures
Dino Game achieved astounding figures, especially for a game title that is hidden from chrome offline mode and is likely to be played only when you have an internet connection problem. Edward Jung statistics show that Dino Game has 270 million innings across all platforms each month, including mobile and desktop.

Master the Dino Game's Action-Packed Gameplay
As soon as your device loses its internet connection, open a new browser, and you will see the notice "No Internet" along with a black and white T-Rex. The goal of Dino Game is to control the T-Rex to go as far as you can through a desert road lined with obstacles such as cactus shrubs and Pteranodons. These obstacles will end your session once the T-Rex hits them, so try to get over them.
The T-Rex will start to run once you start playing. The speed of Dino Game will slowly get faster, and it will be harder to jump over the cactus. When you get 400 points, the game will add Pterodactyls, which are dinosaurs that can fly. You can jump over them or duck if you're playing on a computer. The game is endless, so don't try to get through to the end.
Dino Game is straightforward, but it is definitely entertaining enough to keep you entertained while waiting for the internet connection to be restored.
How To Play
Pressing space, [↑] key or tapping the T-Rex on mobile devices to jump.

Pressing the [↓] key will cause the T-Rex to duck.

Speed up by pressing [→] key.

Press space to replay.
Exciting Key Features of Dinosaur Game
An endless running game with a T-Rex.

Google's most popular webgame.

2D 8-bit graphics.

Addictive gameplay.

An endless level.

Side-scrolling camera view.

Intuitive controls.
Insider Tips and Tricks to Level Up Your Skills
The
Early Jump
Making the jump a little earlier before the T-Rex hits the obstacles is one of the best strategies to avoid them. This allows the T-Rex to duck or jump over the cactus rather than wait for it to approach and clash with it. If you go further in Dino Game and encounter Pterodactyls, do the same early ducking strategy.
The Pterodactyl
Pterodactyls attack the T-Rex from both the ground and the sky. The good news is that most of these flying reptiles can be avoided by jumping. You may jump over them if they are on the ground. But you have to duck to avoid those flying creatures if they attack the T-Rex from the sky. You don't need to duck much until the Pterodactyl is rushing at you from behind.
The Standing Still T-Rex
It is better to keep the T-Rex standing still and avoid the obstacles than speed up while avoiding them at the same time. Seeing the T-Rex stand still as the scenery and obstacles move will give you better control of the game.
From 99,999 To 0
Dino Game will reset to 0 even if you overcome all the difficulties and reach the highest score of 99,999. So don't get too set on beating this seemingly easy game.
Unleash Your Gaming Odyssey: Best Google Games
We hope you have a good time playing with Dino Game. If Google Games is one of your favorites, try some of our other games like Pacman, Minesweeper, Tic Tac Toe, Snake, etc.