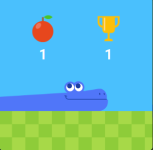 Snake is a fun and exciting snake game. This is the most recent version of the classic Snake game, and it has similar gameplay to the original version with a very basic goal: maneuver your snake to eat white blobs to grow. One thing to remember while playing snakes is to avoid collisions. If you connect to a wall and don't move fast enough, the snake will die and you will have to restart. There are three difficulty levels for you to choose from in this game: EASY, HARD and HARDEST. Try it today and see how many points you can get?
How to play
Using the WASD keys.
Maintain a safe distance from the walls.
To pause a game, on the play screen, hit the left mouse button or the Spacebar.
To resume a game, use the repeat button.
Play the game in full-screen mode for the best experience.