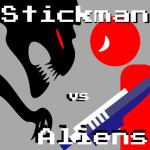 Stickman vs Aliens is a new online battle game. Your Stickman Hero is controlled by sliding the finger from left to right, up and down. At the same time you are destroying planes and tanks, aim at your rival. As you collect money and weapons, your score will increase.
Features
Cool enemy designs.
Colorful 2D graphics.
Easy to play.
If you enjoyed this action-packed run, you can check out our other runs like Spider Boy Run, Minicraft, Giant Rush!
How to play
You can use "W, A, S, D" to move and the spacebar to shoot.