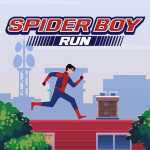 Spider Boy Run is a game in which you play as an unmasked version of Spider-Man, who is now more famous than ever owing to the release of a fresh new film starring him, and you have to race across rooftops with him in one of the greatest new parkour games online.
When he rushes over the roofs, click or touch to make the spider kid leap, and if you hold it longer, you will jump higher, which is required if the gap between buildings is greater. The more you progress, the better, but keep in mind that as your speed grows, it becomes more difficult.
If you fall within the lines, you lose and must start again. So, be sure to gather coins and spend them in the store from the main menu to purchase fantastic new skins and upgrades, which will undoubtedly make playing this game simpler and more entertaining!
How to play
Jump around rooftops as Spider Boy