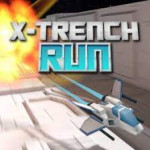 In X Trench Run you have to navigate the environment, while avoiding possible dangers and accidents. Your mission is to destroy an enormous structure that is floating aimlessly across space. To defend yourself and others, you must pilot a space plane and use various weaponry. There are many challenges to overcome in order to progress to higher levels.
Features
Endless mode with escalating challenge

Five-star gameplay that is repetitive. Each round is unique.

Thrilling boss fights. Show off your skills!

Lively music

Simple computer and mobile device operation
How to play
For movement, use the WASD keys; the up arrow will take you upward, while the down arrow will take you lower.
It is possible to destroy laser barriers and enemy turrets by clicking on them or by using the space bar.