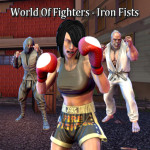 World Of Fighters: Iron Fists is an action-packed video game that takes place in a violent and crime-infested city. Your Iron Fists Squad must clean up the mess created by street thugs. Iron Fists are a group of people who operate outside the law, using their skills and expertise to keep streets safe and to prosecute criminals. It is important to have quick reflexes and be able to fight hand-to-hand. This game is structured as a sequence of challenges, with each task becoming more difficult. In order to overcome waves of foes, as well as bosses that have their own combat styles, you will need both your intelligence and your fighting capabilities. As you advance through the story, more characters are unlocked. They each have their own unique abilities and restrictions. You can also upgrade your weapons and gear, which will make you more dangerous in battle. You should be aware that the city's dangers are not to be taken lightly. It is important to always be aware of your surroundings because opponents could come from anywhere. Battles get more fierce as you move closer to the titans.
Features
Nostalgic arcade theme
3 fighter options with different character stats
Challenging levels and enemy types
Colorful 3D graphics
How to play
Use the arrow keys to move, the spacebar to jump, and "Z, X, C" to attack.