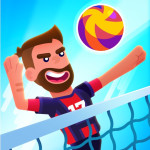 Volleyball Challenge is a great way to start a volleyball game! The game is extremely complicated and has many game modes including Career mode, 2 Player mode and more. The career mode allows you to take part in matches from different nations. The 2-player mode allows you to choose your favorite character or team. With a wide range of powerful powerups, and an exciting action game to match! The epic volleyball matchs are about to begin!
If you like this challenge, you can check out our other Sports Games!
How to play
You can use "W, A, S, D" to move, "C" to shoot, "V" to jump, and "B" to activate special powers.