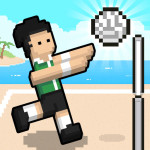 Volley Random is a fun two-player board game that will get you in love.
This sports-themed game will grab you attention. It will capture your attention with its colorful turn-by–turn visuals but also its fun gameplay. Volley Random transports players to new places after each objective. Take control of your character and beat the opponent effortlessly. You have the option to choose from one of two modes or to challenge all. Each mode is unique. Right now, play!
How to play
Player 1: "W"
Player 2: "UP ARROW KEY" You can play the game by touch controls on mobile devices or tablets.