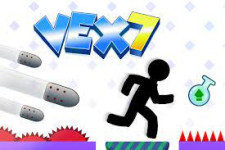 Vex 7 is an action platformer game where you use parkour skills to leap over dangerous obstacles. Avoid spikes and surveillance cameras emitting laser beams. Perform wall jumps and collect coins to make it to the finish.
Features
Colorful 2D graphics.
New Vex levels.
Game mode options.
Daily quests and rewards.
Unlockable skins.
How to play
Use WASD or arrow keys to move.