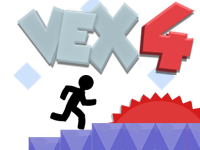 Vex 4 is a platform game that you can play with a stickman. You have to climb, slide, jump and swim through 9 difficult acts while avoiding traps. Are you up to the challenge of Vex 4?
Features
Cool physics and reflexes.
9 acts to play, with the ability to play in hard mode.
Challenge room that consists of 30 floors to beat.
Different trophies.
How to play
Arrow Keys (or WASD) to move.
Up (or W) to jump.
Down (or S) to crouch / enter an act.
Reach the flags to activate checkpoints.