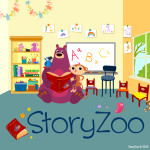 StoryZoo Games includes many minigames that explore StoryZoo's universe. There are many educational games like memory, word games and image puzzles. These games can be used to introduce children to animals from the zoo or farm, as well as teach them language in a fun way.
Minigames are played in a classroom as the primary setting. Minigames can be represented by illuminated game parts. Click one of the components to launch the associated minigame. You can control all minigames with your touchscreen or mouse.
How to play
Use the mouse to play the game.