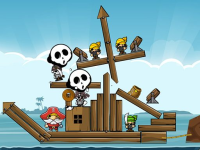 Siege Hero Pirate Pillage is a fun online destruction game. Where you can wipe out the pirate horde while protecting the innocents and grab some gold bars. You aim to destroy both the ship's and passengers in this sequel to the popular game physics-based demolition.
Shoot deadly ammunition and stones to win Siege Hero Pirate Pillage. Before you start shooting like a lunatic, plan carefully. This will allow you to eliminate everyone and protect innocents. Are you prepared? Start your adventure with Siege Hero Pirate Pillage.
How to play
Use the left mouse button to throw your weapon.