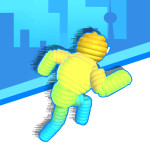 In the game Rope Collect Rush, you must control Rope Man and slide the screen to collect as many strands on the track as possible.
Be prepared for any difficulties that you may encounter on the way! Contacting the spinning horizontal bars or rolling gears will cause your twine ball to slow down, and you may lose your rope.
How to play
Play with the left mouse button or click on the screen of mobile devices.