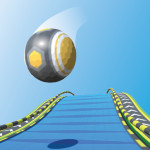 Rolling Ball is a game with a moving ball that I enjoy playing; it reminds me of Slope. The ball is pushed downward by sloping and tilting stages.
Reflexes and vision should be sharp. It slows down as the ball accelerates over bumps. As you move the ball, keep your eyes open for new obstacles. As you progress through the levels, they get more difficult. With each level, the obstacles become faster and more difficult to navigate. Wish you luck!
How to play
Swipe to roll the ball (mobile). Use Arrow keys or AWSD keys to roll the ball (desktop).