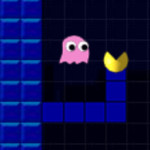 Pac Xon a Pac-Man-style game. As you move, you have to create a wall that fills up the screen.
Pac Xon wants to construct the wall until it covers 80%. This goal must be reached without ghost attacks. You risk your life if you allow them to drift into an unfinished brick wall.
As you climb higher up the ranks, you will encounter a variety ghosts. Pac Xon has fifty levels in all.
How to play
For desktop, move with arrow keys
For mobile devices, slide your finger across the screen to move