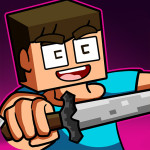 My Craft: Craft Adventure will take you on an adventure through the block world. To restore justice to the peasants and be their hero, you must defeat evil! Show the strength and courage of the good guys by taking up arrows!
You're familiar with how strange visitors appear in distant towns. They arrive at the time of greatest need, help the people and then rescue everyone. In this story, you must rescue the victims from the evil creatures and eliminate an army zombies. How? With your sword skills, of course! Starting at the first level, you might be landing punches! You will be able to do a lot of damage by completing this level. You will need to kill the training monsters, smash the boxes and collect gold coins and apples before you can reach the finish line. Good luck!
How to play
You can use "W, A, D" to move and the spacebar to attack.