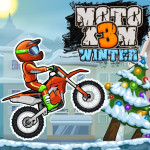 Moto X3M 4 Winter - This is the fourth and final experimental edition of Moto X3M motorbike racing game. This edition will take the rider on an ice-road journey, with over 15 additional stages. You can show off your skills, set records and simply enjoy this winter paradise.
Use the arrow key to accelerate and brake Moto X3M 4 Winter. Navigate your vehicle across a series ramps, diversions, or obstacles. Calculate the flip times and reduce it by 0.5 sec for each flip. Avoid collisions to get the most stars. If you experience any difficulties, you can quickly resume your adventure using the arrows located at the top left of the screen.
The quicker you complete the course the more stars that you earn. These stars could be used to purchase more vehicles.
How to play
W key or up arrow to accelerate
S or down arrow key to brake
A or left arrow key to tilt left
D key or right arrow to tilt right
Spacebar to keep racing