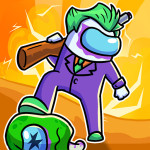 Impostors vs Zombies: Survival is an exciting shooting game. It is necessary to move constantly in order to defeat the zombies that surround you, protect your friends, or complete each task. It is vital to win.
Discover and destroy all the imposter-zombies. Your crew has been transformed into zombies. Be prepared to defend yourself from the hordes of enemies. Make it your goal to become the last man standing. To win money, go on a zombie-hunt and kill zombies! You can collect more cash to purchase a powerful rocket.
Features
Suspenseful gameplay and thrilling quests.
Addictive from the very first minutes.
Amazing graphics and sound effects.
Vivid characters, bring a real feeling.
If you like this fun shooting game, you can check out Kingdom Survivor!
How to play
Use a mouse to perform actions in the game.

Arrow keys or WASD to move.

Space key to interact with the object.

Z key to use the first aid box, X key to call the support missile, C key to use the item.