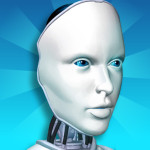 Idle Robots has a fantastic robotics theme. You build robots by acquiring components and enhancing them. You can play with well-known robotics, such as R2D2, T800 and D.O.G. Watch the board as you add the wires, the head and the armor. You can find the upgrades on the left side of your main shop menu. This allows you to purchase extras.
Features
Rich in content. The most iconic movie and art time robots.
Beautiful graphics and audio descriptions.
Audio and visual effects collide, and the game process becomes more enjoyable and satisfying.
How to play
The goal of the game is to create robots, buy parts for them, upgrade robots.
Control on a PC - click on objects with the left mouse button.
Control on a mobile device - tap on the screen on the necessary elements.