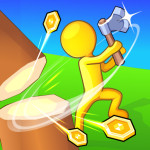 Idle island is an adventurous game where you can explore the island. For the sake of the lady's safety, you must gather material, build bridges, and fight the evil guy. You will discover many new tasks while exploring the lovely island. Get started now to be the hero the island needs.
Get what you need first. Cutting down trees will give you wood. Breaking up stones can provide stones. Build a simple camp using wood and stones. Alternatively, you could hire others to go out and collect the wood or stone while you're exploring. As soon as you open your market, where your resources can be sold for money, along with a weapon store where gold can be spent to upgrade your equipment, Build a bridge to get from one island to another. Attention! It's important to note that the only island without enemies is where you started. By using your mouse, move close enough to them so that you can strike them and steal their money. When you get your friend out of the tower, you can make another boat. Grab different resources to prove that you own the island.
Features
Colorful 3D graphics
Various resources to collect and trade
Intuitive control
Entertaining gameplay
Different islands to unlock
If you like this game, feel free to explore our assortment of free, online 3D games.
How to play
WASD / arrow keys = move around
Left-click = interact with in-game UI