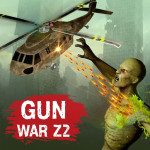 Gun War Z2 is an interesting shooting game. The goal of the game is to save as many people as possible. Easy controls, a wide variety of weapons, and challenging levels. There will be no more normality in the world: people are fleeing and Earth is overrun with zombies.
There are 30 missions, divided into 3 leagues. You'll need to intercede in various locations while the zombie threat spreads. You can unlock many upgrades for your gear, including seven different helicopters. Earn extra rewards by completing the daily challenges, mini-games, and quests. Now is the time to put an end to this zombie plague!
If you enjoy playing Gun War Z2, you can also enjoy other zombie themed action games like: Zombie Survivor Fight, Run Gun Robots, etc.
How to play
Simple and intuitive mouse control.
Firing a rocket to the "A" key.