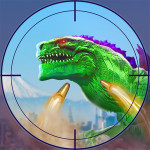 Giant Wanted is a thrilling action game that transports players to a huge area destroyed by giant creatures.
Your mission in this action game is straightforward: use the various weapons to eradicate the danger posed by these massive beasts. However, even with advanced weaponry like sniper rifles and backup aircraft, the task is never simple. At the same time, it provides a hard experience comparable to Dark Souls in which players must swiftly fire at vulnerable places to exploit opponents.
How to play
Use mouse or touch to play.