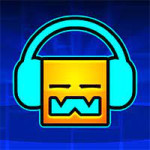 Welcome to the Geometry Dash! Anyone who likes flying and jumping will enjoy this rhythm-based horizontal game. It is a rhythm-based platformer with 40 million levels created online by users in addition to the 21 original ones.
This game will have you playing the role of Geometry Dash square. You must clear all of Geometry Dash's most difficult obstacles. Your objective is not to be in danger. You will return for more, even if you're screaming in rage.
The Geometry Dash horizontal rhythm game is fun! This arcade game focuses on the music and the mazes. As the music plays, jump or soar across the square. The game's levels increase at a faster pace as you play. You must make timely decisions to avoid the square collapsing. All the growth you have achieved will be lost if you skip a beat. The game is easy to play and has a pleasant tempo. Each level features its own music. Geometry Dash will give you a challenge that is almost impossible to beat!
Features
Rhythmic Action Platforming!

Numerous stages with distinctive soundtracks!

Use the level editor to create and distribute your own levels!

You can personalize your character by unlocking new icons and colors!

Work on honing your talents in practice mode!

Numerous accomplishments and awards
How to play
Click the left mouse, the space bar, or the up arrow to jump over.
Press the Z key to place checkpoints.
Press the X key to delete the last checkpoint.