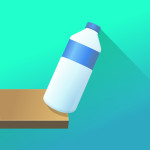 Flip Bottle is a skill game that focuses on bottle-flipping. To reach the checkered mark indicating the end of a level, place the bottle on the platforms and jump over it.
To flip a glass bottle, press a single button. You can direct the bottle to land on the bookshelves, the TV, or the microwave. You can have it slide across the frames of portraits and paintings, and bounce off the toasters.
To prevent the bottle from hitting ground, jump and double jump. After completing each level you will be rewarded with money. You can then access the menu to unlock additional bottles. You can open wine bottles, champagne bottles, soda cans and soda cans.
How to play
Tap the screen at the right moment and jump