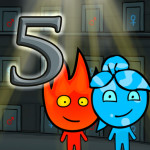 Fireboy and Watergirl 5 Elements is a cooperative game. It makes playing with a buddy much more enjoyable. Instead of fighting, you can solve puzzles together and progress through levels. You can play on multiple devices because of the way the controls were designed. You can also play the game solo if you want by controlling both characters at once.
Each field has its own fundamental problems. The first section is called the woodland temple. To get to the final doors, both characters must be used. Each location has its own flair. The light temple for instance has wonderful colored lights.
Fireboy & Watergirl: The fifth installment introduces a number of new temples. These temples include many elements from the earlier game. To solve all-water and all-fire temples, one must be in charge. There are many puzzles that will keep you busy, as the title suggests.
How to play
Arrow keys to control Fireboy
WASD to control Watergirl