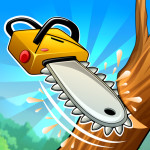 Feller 3D allows you experience the life of being a lumberjack. You can also build houses. Don your jacket, grab your axe, then make your way over to the groove nearest you to collect timber.
There are several stages to wood gathering. The first step is to chop a tree down with an axe. You can then remove the skin, chop the wood into planks for final use, and complete the remaining stages. Follow the directions on each level. When you have accumulated sufficient resources, then you can start building residences. Every home features a different design. There are also many ways to customize it. You can view your accomplishments on the left side of the building screen. Gold coins are earned by finishing these challenges. They can be used to buy tickets, bonuses and other prizes at the machine.
Features
Colorful 3D graphics.
Multiple levels with each different task to complete.
Intuitive controls.
Can build and customize various houses.
Entertaining gameplay.
Our free online 3D games are perfect for relaxing.
How to play
Как игратьElements of the game: 1. Unlocking useful items. As you progress, discover new tools, and new ways to destroy trees. Will you use your trusty axe, or would you prefer a motorized disintegrator? 2. Skill-Based Assignments. Follow the patterns and follow the commands to clear the forest. 3. custom home decorating Build and decorate custom homes using the wood you've collected. 4. Rest and Enjoyment Take a break from work with the Lumberjack Simulator.