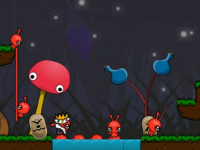 Dibbles. Pro Pack is a wonderful game for honing one's logical and strategic thinking skills. The various innovative tasks of varied degrees of difficulty will engage your intellect and imagination. A narrative with hilarious characters and an intriguing premise keeps you delighted and amused throughout the procedure.
Are you ready to take on the role of a strategist? This brainteaser is a wonderful chance for you to enhance your strategic thinking skills and grow as a team leader. It is your obligation to offer Dibbles with the strategic guidance he needs to disarm the traps and select the quickest approach to the goal. Your microscopic aids are capable of building floaters or bridges, climbing walls, bouncing, delivering blows, excavating holes, and much more. Have fun experimenting with various tactics to accomplish the level and improve your time management skills!
How to play
Use the left mouse button to place the instructed stone on the ground.