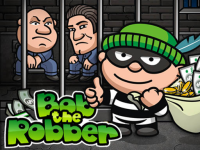 In Bob the Robber, the first game in the series, the main character tells the story of how he got into burglary. Bob has always known what was going to happen to him. He worked hard and trained for years to get the skills he needed. He finally found a worthwhile cause to start his crusade for. Fair robber Bob declares war on the mafia and corruption and starts a crusade to find proof and a new money bag. There are angry dogs, security guards and cameras, laser gratings, and doors that hide things. The way to the goal will be full of obstacles!
Features
5 different levels.
Different types of opponents to overcome.
Challenging puzzles.
Sneak around and dont get caught.
How to play
Use WASD or the arrow keys to play. Use the space bar to attack the guards.