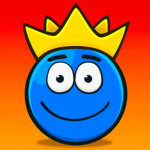 Ball Tales - The Holy Treasure introduces us to the amazing world of the blue ball. Begin a small group with him to go through the chapters, find out the origins, and help them escape the horrible forests that they live in. Of course, you might also search for the treasure chest!
This forest is a magnet for many people. Some are looking to find wealth, while others seek out the beauty of it. The small men who arrived looking for a treasure are in grave peril. The locals of the woods claim the valuables and seek revenge on the intrusive criminals. To free his buddies, our blue buddy will need to search for them. You must be able to give him the basics. Make progress to see the opportunities that are available. Jump from platform to platform, grab all the gold, and then use what you find to get past any barriers. Keep your spirit strong. Be prepared to jump long distances. You could end up losing one of your three lives. Keep collecting all the stolen valuables so you can see where you go with three stars.
How to play
You can use "W, A, D" to move.