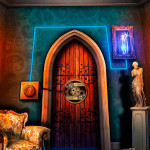 100 Doors Escape Room is an exciting escape puzzle game. You may go on a thrilling and graphically appealing journey. Immerse yourself in an intriguing world of riddles and puzzles, decipher the mysteries of Lord Kelly's vanished manor, and dig into a story of deception and pure love.
Features
Figure out the mystery surrounding the inheritance of Lord Kelly;
Take in the breathtaking visuals;
Solve problems on unique, non-repetitive levels;
Find hidden artefacts;
Dozens of exciting responsibilities and extraordinary obstacles to overcome.
How to play
The objective of the game is to work through all of the conundrums and unlock all of the locked entrances. To progress through all of the stages, you will need to activate both your logic and your creativity.
Control on a mobile device is accomplished by touching and swiping the on-screen components of the game.
Left-clicking with the computer mouse to control the game components