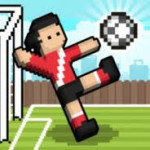 Retro Goal is an old-school football game that combines team management with a retro-style. You can become a champion by choosing a team from the best leagues and recruiting the best players. Retro Goal is a simple title that features retro 16-bit graphics and controls. It has an unusually complex gameplay. The game had around 500 teams. This included the top two English divisions as well as 24 of the best teams across the globe. Retro Goal's career mode is the game's most important attraction. It has a transfer marketplace, stadium renovations and youth academy. Retro Goal's "Records" section contains more statistics than FIFA 23.
How to play
Press shift to enter the main screen.
Press shift to select game mode.
Press enter to enter the tutorial.
Player:
Press keys to move
Press A to shoot the ball
Press B to pass (pass)
Press C to shoot short (short kick)
Press A + B to kick the heel (heel up)
Goalie
Press A to slide (sliding)
Press B to catch the ball (tackle)
Press the arrow keys to select a team, and press X to select
Press the arrow keys to select text and press X to deselect